| | |
| --- | --- |
| Posted on September 20, 2015 at 12:50 AM | |
The links in the posts below may be affiliate links. Read the full disclosure,
Your going to like this book if you are even remotely interested in the RV lifestyle or a glamper flipper!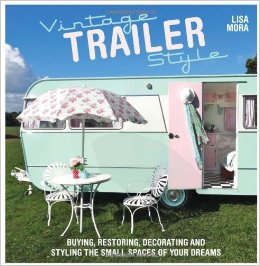 I find that the people running into our shop looking for kitchen glamper and camper items are either people that are putting lipstick on an aleady cool trailer, or they are doing heavy remodels.
The real defining factor on the types of purchases made seems to be if they are living in it full time, having dinners parties in them or using them for weekend getaways!
This one of a kind book boasts "Over 350 beautiful and inspirational photos sit alongside practical tips on restoring, up cycling, decorating and styling a little capsule of retro heaven – whether you own a trailer, beach hut or even a shed!."
Enjoy the read and let me know what you think!
Best!
LISA J
Get the book online or shipped!

Vintage Trailer Style: Buying, Restoring, Decorating & Styling the Small Place of Your Dreams
Categories: Vintage Trailers, Where to Buy Vintage and Upcycled Items, Sass Thoughts & Best Practices